Shaw: Former MSUM president escaped Holocaust, became champion of social justice
"The Holocaust shaped his whole life," said the son of John Neumaier, whose mother died in an extermination camp after the rest of her family fled to the U.S.
By Jim Shaw, April 08, 2023  (Reprinted with permission. Photos are MSUM Archives photos unless otherwise noted.)
MOORHEAD — Most people connected to Minnesota State University Moorhead are familiar with Neumaier Hall. Actually, there have been two Neumaier Halls that served as dormitories. The first opened in 1970 and was imploded with much fanfare in 1999. The new Neumaier Hall was dedicated in 2003.
Less familiar now is who Neumaier was. Well, John Neumaier was president of MSUM (then called Moorhead State College) from 1958 to 1968. He died in 2016 at age 94.
"John was an extraordinary man," said Barbara Glasrud, of Moorhead, a longtime friend of Neumaier whose late husband worked closely with him. "He was a true gentleman with a sense of humor."
"My father was an incredible intellect," said John Neumaier's son, Roger Neumaier. "He was passionate about ideas and a very warm person."
Under John Neumaier's leadership, Moorhead State experienced extraordinary growth and was known as one of the fastest growing colleges in the Upper Midwest. Enrollment skyrocketed from about 1,100 students to more than 5,000. Dozens of academic programs and faculty members were added.
"He desperately wanted to make Moorhead State a better place, and he succeeded," Glasrud said. "He hired some very talented people who brought sophistication to the college. He made it a first-rate university. He turned that college into something special."
A major influence in John Neumaier's life was the Holocaust.
"The Holocaust shaped his whole life," said John Neumaier's son, John Fredric Neumaier.
So, during this Holocaust Remembrance Month, it's fitting to tell that story.
John Neumaier was born in 1921 in Frankfurt, Germany. He grew up there and lived with his parents. His father, Otto, ran an advertising agency and was a decorated World War I veteran who fought for Germany for four years. His mother, Leonore Schwarz Neumaier, was a renowned opera singer who was well-known throughout Europe.Leonore Schwarz Neumaier, a renowned European opera singer, in costume as Ortrud for a performance of "Lohengrin" in 1916-17.
"My mother was humorous. She was outgoing. She had lots of friends," John Neumaier told me in 2003 during an interview for KVRR-TV. "She was a lovely woman."
After Adolf Hitler and the Nazis came into power in 1933, life became brutal for the Neumaiers and other Jewish families in Germany.
Jewish people were not allowed to serve as lawyers, teachers and doctors. They were excluded from public facilities, such as libraries and swimming pools. Jewish children were banned from attending school. Jewish people were no longer considered citizens. Jewish-owned businesses were vandalized and boycotted.
Jewish people were taunted, harassed and beaten.
"People there used all sorts of dirty slogans, such as 'Jews die,'" John Neumaier told me. "It was very frightening."
On Nov. 9, 1938, German stormtroopers and citizens went on a rampage. They destroyed thousands of Jewish-owned stores, buildings, schools, homes and synagogues in Germany and Austria. It was called Kristallnacht, or "The Night of Broken Glass."
"I watched the flames shooting up from our beautiful synagogue," John Neumaier said. "I also saw the firemen standing by, making sure that the neighboring buildings did not catch fire."
Hundreds of Jews were killed. More than 30,000 men were arrested and put in concentration camps. One of those arrested was Otto Neumaier, then 64. He was later released, because at that time the Nazis didn't put people over 60 in concentration camps.
Still, the Neumaiers knew they had to get out of Germany.
After an intimidating interrogation by a Gestapo guard, John Neumaier escaped by visiting a family friend in England in 1939.
Also in 1939, Otto and Leonore were all set to come to the United States, as Otto had a son from a previous marriage who lived in Minnesota. However, an American diplomat arbitrarily refused to let Leonore come to the U.S.
"She had all the documents to get her visa, but he refused to give her the visa," said Diane Leonore Neumaier, daughter of John Neumaier.
It was a stunning and heartbreaking development. Historians later found that diplomat had a long record of antisemitism.
So, Otto Neumaier traveled alone to Minneapolis. He would later be joined by John.
Leonore was sent to another apartment in Germany, where she once again started the arduous process of trying to get to the U.S. At first, she seemed resigned to the fact that she was not going to make it.
On Jan. 21, 1940, she wrote in a letter to her son: "It pains me very much that on the 20th anniversary of my wedding day that I must write to you, my beloved, so short tempered, for I see myself robbed of every hope of coming to you, as much as I wished and hoped for."
What Leonore and the rest of the Neumaier family didn't realize is that they were up against the U.S. State Department, which was led by antisemitic officials. Those in the department were determined to prevent as many Jews as possible from coming to the U.S., even though they knew European Jews were being murdered.
Still, Leonore sounded more optimistic on Oct. 20, 1940, when she wrote: "On this day I will be with you in my thoughts, especially with much love and hope and with my innermost wishes. May the Almighty grant that we should finally be united in happiness."
Oct. 20, 1940, letter from Leonore Neumaier by inforumdocs on Scribd
That optimism continued for several months. On Feb. 23, 1941, she wrote: "With God's help I hope to be with you very soon. Then I will take care of you in such a way as you only deserve."
Leonore continued her efforts to come to the U.S. either via Cuba or Portugal. On June 9, 1941, she wrote: "If my ship is supposed to depart from Lisbon in October, I will be able to go to Lisbon already in September."
On Nov. 2, 1941, she wrote: "On this day I was with you in my thoughts and innermost wishes, even though my tested heart is tensed up out of pain because I still cannot be with you. … I endeavor as much as possible to keep myself healthy in order not to come to the USA as a wreck."
It was her last letter. A month later, the U.S. and Germany were at war with each other.
Shortly after the U.S. entered World War II, John Neumaier, now a proud American, enlisted in the army. Because he spoke German, he was assigned to guard German prisoners of war in Nebraska.
Meanwhile, he lost all contact with his mother. Even after the war ended in 1945, there was no trace of her. Finally, in the early 1950s, John Neumaier found out the truth.
In June of 1942, when trying to assist a non-Jewish friend in Germany, Leonore Schwarz Neumaier, 53, was arrested at Gestapo headquarters. Shortly afterward, she was sent to the Majdanek extermination camp in Lublin, Poland.
She was presumably murdered shortly after arriving there. She would have been sent to the gas chambers or shot to death. As many as 360,000 people were murdered in Majdanek. The vast majority of them were Jewish.
Several other relatives of John Neumaier were also killed in the Holocaust, including two cousins who were young girls.
The news was not a surprise, but it was still devastating.
"The loss of his mother was the great loss of my father's life. He loved his mother intensely," Roger Neumaier said. "The Holocaust motivated him to pursue justice for all."
"The pain of his mother's death was always very close to him," Diane Neumaier said. "He couldn't let go of that kind of hatefulness."
"His mother's death shaped his whole life. It had a profound impact on his life," said John Fredric Neumaier. "It led him to be interested in social justice and trying to protect everybody."
Indeed, John Neumaier made Moorhead State much more diverse, as he tirelessly recruited Black students and professors to come to the college.
In 1963, at a joint Moorhead State and Concordia College memorial service in memory of President John F. Kennedy, John Neumaier urged students to honor the assassinated president by "working for reforms, removing hatred and prejudice" and "promoting social justice."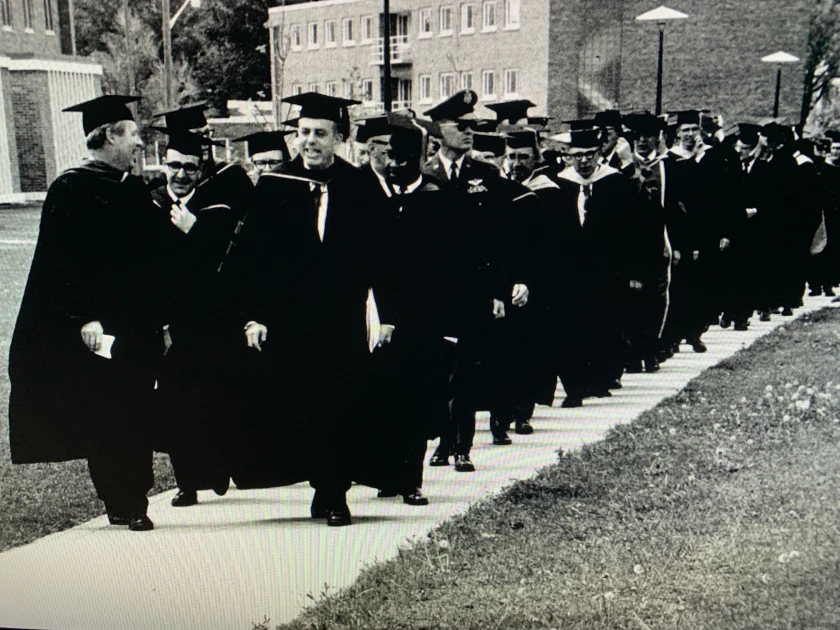 At Moorhead State's opening academic convocation in 1966, John Neumaier told 1,200 students that a major focus in the school year should be on "respect for the dignity of individual human beings regardless of color, place of birth, economic position, cultural origin or spiritual commitment."
Unbeknownst to John Neumaier, his mother tried to save many of her personal items. In 1953, trunks arrived from Switzerland with some of Leonore Schwarz Neumaier's most precious possessions. The family heirlooms included photographs, opera posters and recordings of her singing.
That beautiful and powerful voice was preserved. John Neumaier was overwhelmed.
Visit Inforum for a link to the YouTube video of "Leonore Schwarz Neumaier sings Dvoraks."
"Those recordings really moved him," Diane Neumaier said. "He was so proud of her. He wanted everybody to listen. It kept her memory alive. Every so often, he would break down when listening to the recordings."
In 2002, an exhibit called "A Voice Silenced" was put together by John and Diane Neumaier. It was the story of the Neumaier family during the Nazi reign. There were 180 pieces in the exhibit, featuring family photographs, opera posters and, of course, the recordings of Leonore singing.
The touching exhibit was displayed all over the U.S. and in Germany. In 2003, it came to Minnesota State University Moorhead. John Neumaier told me he hoped it would teach people the dangers of hatred.
"We called it, 'A Voice Silenced' because it isn't just her voice, it was all the other voices," he said. "We felt it was important to personalize the Holocaust. It's not just that they were Jewish but that they were human beings."
John Neumaier felt the need to not only go back to Frankfurt but to honor his mother and all the other innocent victims by visiting the Majdanek death camp. He spent his adult life speaking out against bigotry and urging others to do the same. He emphasized that we should be kind to each other while embracing the differences between people.
The senseless murder of his mother was always a part of him.
"I have never gotten over it," a tearful John Neumaier told me. "She did mean very much to me, and I feel that whatever is good in my personality, to a significant extent, I owe it to her."