College of Business, Analytics & Communication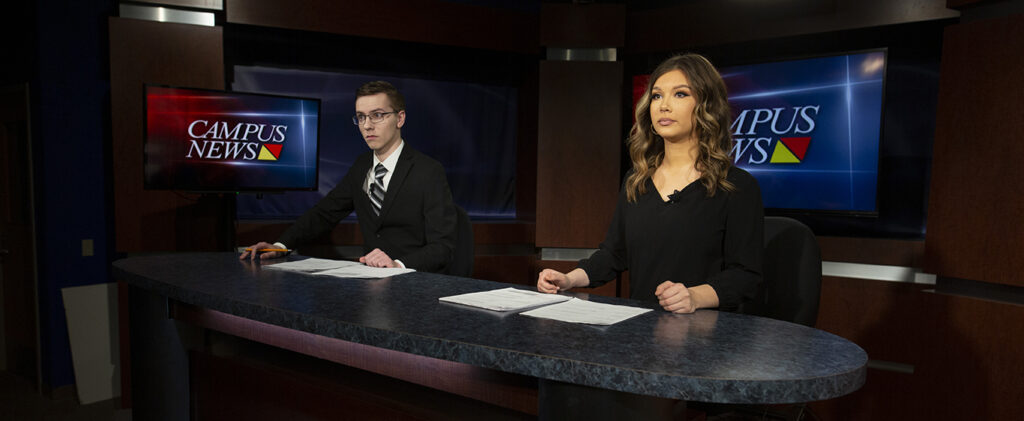 Campus News Named Best College News Magazine by Society of Professional Journalists
The Society of Professional Journalists has named MSUM's Campus News as the winner in the student news magazine category in its annual Mark of Excellence Region 6 Awards. In addition, Campus News students earned eleven individual awards in six different television categories, more than any other school in the region.
The Society of Professional Journalists (SPJ) Mark of Excellence Awards for Region 6 includes colleges and universities in the states of Minnesota, North Dakota, South Dakota, and Wisconsin. First place winners in each category advance to the national round of judging.
Campus News students also received recognition from the Midwest Broadcast Journalists Association (MBJA) in its annual Eric Sevareid Awards in the Student Market categories. The Midwest Broadcast Journalists Association Eric Sevareid Awards includes the six state region of Minnesota, North and South Dakota, Wisconsin, Iowa, and Nebraska.
In addition, six MSUM students earned awards in the Radio Reporting categories. All were students in Professor Aaron Quanbeck's Broadcast Journalism class and had their work air on KMSC's Dragon Radio.
The Program Director for Campus News, Dr. Aaron Quanbeck, said that the recognition from SPJ and MBJA is a great honor and recognizes the dedication of the students. "It's gratifying to see that these students are being rewarded for the long hours and hard work they put in to produce these stories," said Quanbeck.
Campus News airs on Prairie Public Television at 8:30 AM during the spring semester. Archived newscasts and stories are also available on the Campus News YouTube channel at www.youtube.com/MSUMCampusNews.
Society of Professional Journalists Mark of Excellence Awards
Best All-Around Television News Magazine
Winner: Campus News 3-7-20 – Link to Newscast
Television Feature Reporting
Finalist: Marissa Shiock – Drag Show at MSUM
Television General News Reporting
Finalist: Nancy Wambui – Open Mic Night for Change
Television In-Depth Reporting
Finalist: Shayley Espeseth – Tobacco Ban
Finalist: Jacob Ambrose – UnrestrictMN
Broadcast Feature Videography
Finalist: Marissa Shiock – Drag Show at MSUM
Television Sports Videography
Winner: Dominique Trowbridge – NDSU Wrestling Clinic – Link to Story
Finalist: Justin How, Joe Keller – MSUM Swimmer
Finalist: Dominique Trowbridge – MSUM Tennis Club
Television Sports Reporting
Winner: Jacob Tensen – Not Just a Man's Game – Link to Story
Finalist: Nick Knapper – Beeninga Brothers
Finalist: Damien O'Donnell – NDSU Wrestling Clinic
Radio News Reporting
Winner: Alix Larson – Buzi Bus Service – Link to Story
Finalist: Ashley Walker – Coming Out Week
Radio In-Depth Reporting
Winner: Gracie Jackson – Housing at MSUM during COVID – Link to Story
Finalist: Bryant Stenberg – Music Classes during COVID
Radio Feature
Finalist: Katlyn Haugrud – MSUM Drumline
Radio Sports Reporting
Finalist: Alissa Lundeen – Youth Hockey during COVID
Midwest Broadcast Journalists Association Eric Sevareid Awards
Broadcast Writing – Radio
First Place – Alissa Lundeen – Youth Hockey during COVID – Link to Story
Award of Merit – Katie Merrick – MSUM Wellness Center during COVID
Broadcast Writing – Television
Award of Merit – Damien O'Donnell – MSUM Tennis Club
Hard Feature – Radio
Award of Merit – Gracie Jackson – Housing at MSUM during COVID
Award of Merit – Alix Larson – Buzi Bus Service
Soft Feature
First Place – Katlyn Haugrud – MSUM Drumline – Link to Story
Photojournalism
Award of Merit – Aiyanna Taylor – Women of Troy
Audio – Radio
Award of Merit – "MSUM Drumline"
Sports Reporting – Radio
Winner: Alissa Lundeen – Youth Hockey during COVID – Link to Story