College of Arts & Humanities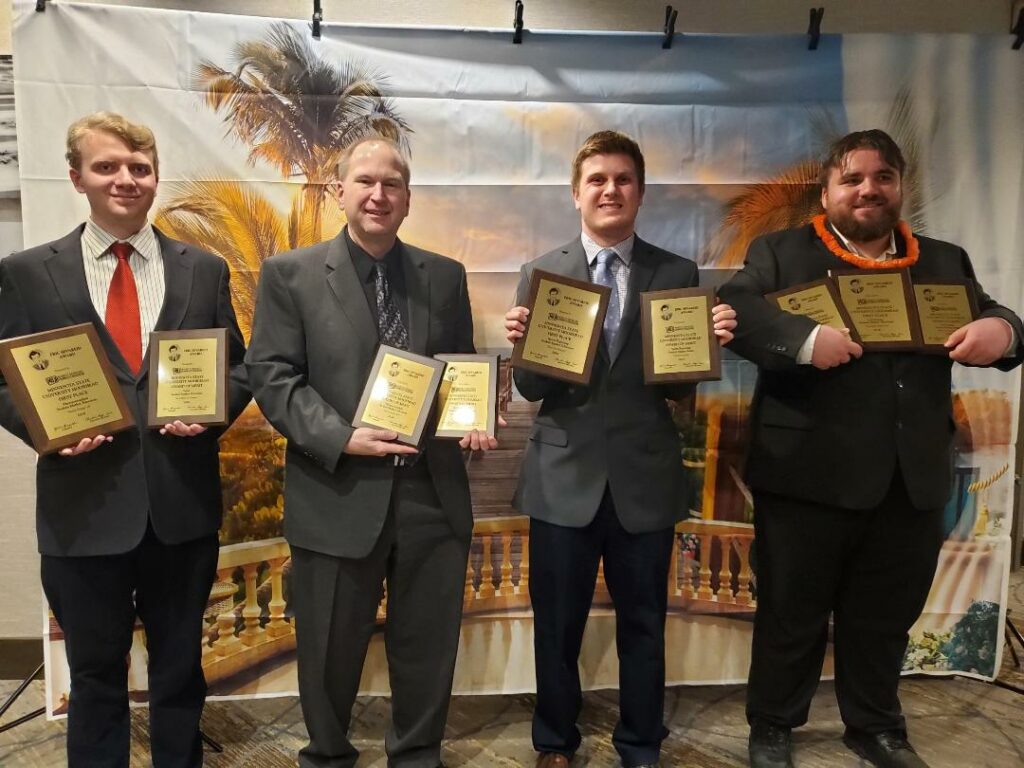 Campus News earns Crystal Pillar in broadcasting awards
Campus News, MSUM's student-produced newscast, received a Crystal Pillar in the National Academy of Television Arts and Sciences (NATAS) Upper Midwest Regional Student Production Awards. The Upper Midwest region covers Minnesota, North Dakota, South Dakota, Iowa and western Wisconsin.
MSUM's Campus News was the only college newscast to receive a Crystal Pillar in the newscast category. MSUM Campus News students also earned four individual awards for Light News, Video Essay, Writing, and Arts and Entertainment/Cultural Affairs. The awards were presented during the April 12-13 Midwest Journalism Conference in Bloomington, Minn.
Students in the program also earned several Society of Professional Journalists (SPJ) Mark of Excellence Region 6 Awards. SPJ's Region 6 includes colleges and universities in the states of Minnesota, North Dakota, South Dakota and Wisconsin. Students involved in the broadcasting program received 13 individual awards in eight different categories, including three first place awards. First place winners in each category advance to the national round of judging.
Campus News students also received honors in the Midwest Broadcast Journalists Association (MBJA) annual Eric Sevareid Awards. The Midwest Broadcast Journalists Association Eric Sevareid Awards includes the six-state region of Minnesota, North and South Dakota, Wisconsin, Iowa and Nebraska. Students earned nine awards, including first place honors Photojournalism, Soft Feature and Sports Reporting.
Campus News is supervised by Professor Aaron Quanbeck in the School of Communication and Journalism. It airs weekly on Prairie Public Television at 8:30 a.m. during the spring semester. Archived newscasts and stories are also available on the Campus News YouTube channel at www.youtube.com/MSUMCampusNews.
NATAS – Upper Midwest Regional Student Production Crystal Pillar Awards
Newscast
Campus News 4-7-18
General Assignment – Light News
Marine Biology Lab – Tyler Ziegler
Arts & Entertainment/Cultural Affairs
Picturing Music – Leah Backstrom
Video Essay
Man Behind the Mic – Aaron Simmons
Writing
Tyler Ziegler Compilation
Society of Professional Journalists Mark of Excellence Awards
Television General News Reporting
Finalist: Expand Your Horizons – Leah Backstrom
Finalist: Smashing Stereotypes – Leah Backstrom
Television Feature Reporting
Finalist: Marine Biology Lab – Tyler Ziegler
Television Sports Reporting
Winner: Erin Fons Dives In – Aaron Simmons
Finalist: MSUM Rock Climbing – Sara Erickson
Broadcast Feature Videography
Winner: Give Kids a Smile Day – Sara Erickson
Finalist: Marine Biology Lab – Branson Reasor
Broadcast Sports Videography
Winner: MSUM Rock Climbing – Zac Hoffner
Finalist: Erin Fons Dives In – Zac Hoffner
Finalist: NDSU Women and Girls Sports Day – Branson Reasor
Television In-Depth Reporting
Finalist: Homegrown: From Farm to Fargo
Radio Sports Reporting
Finalist: NDSCS Football –Madison Nelson-Gira
Midwest Broadcast Journalists Association Eric Sevareid Awards
General Reporting
Award of Merit – Hurricane Harvey Mission Trip – Shay Dahle
Photojournalism
First Place – Marine Biology Lab – Branson Reasor
Award of Merit – Pay It Forward Tour – Leah Backstrom
Series
Award of Merit – Food Waste on Campus – Ben Blanchard
Soft Feature
First Place – Give Kids a Smile Day – Sara Erickson
Sports Reporting
First Place – Erin Fons Dives In – Aaron Simmons
Soft Feature – Radio
Award of Merit – Chili Cook Off at MSUM – Rollie Dethloff
Sports Reporting – Radio
Award of Merit – NDSCS Football – Madison Nelson-Gira