Comstock Memorial Union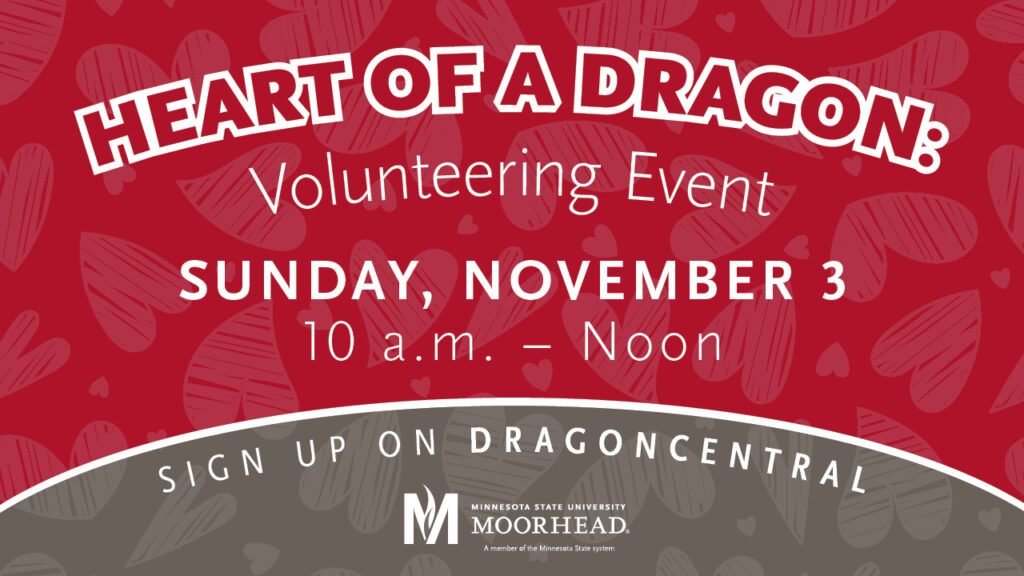 The Benefits of Volunteering for Heart of A Dragon
Are you a Dragon with immense #msumheart? Kick yourself into gear November 3rd by volunteering for the Heart of a Dragon Volunteer Event from 10 am- 12 pm. Make sure you sign up here! You can also find details on DragonCentral.
So what's on the schedule?
You can help out organizations such as: Riverkeepers, Dorothy Day House, Moorhead Parks and Rec, Bright Sky Apartments, Churches United, Ronald McDonald House, and others!
Want to know how it could benefit you? Keep reading, we have a few ideas.
Get connected with other Dragons
It's no secret that by going to events you'll meet other people. When the event is a volunteer event you're guaranteed to make quality, long-lasting friendships. When you're both putting your #msumheart into a good cause, you'll have a tendency to create a strong bond.
Along with making some great friendships, you'll be able to connect with nonprofits in the area that you might want to volunteer for (or work for) in the future. It's a great chance to form friendships and connections that will last a lifetime.
Check volunteering off of your Paths
Good news: You need to participate in a service project to complete the Community Life Path. After you do the Heart of a Dragon: Volunteer Event, you won't have to worry about that anymore. Then you can focus on the next Path you want to complete. Remember: There's prizes involved for completing Paths!
Worry no more about volunteering requirements
Is it required for a class or an organization to complete a certain amount of volunteer hours? This event would give you two hours to finish off that requirement before the semester is finished. Stay ahead of that and keep signing up for volunteer events.
Add it as a finishing touch to your resume
Having volunteer hours to put on your resume is a good way to show future employers what values you hold close to your heart. . . and it might help you get a job one day. It's definitely worth the try!
Have fun and feel good
Let's be real: Volunteering is fun! You get to meet new people (fun), do things that make a difference (more fun), and feel good about the work you're doing (the most fun). We hope to see you volunteering on November 3rd for the Heart of a Dragon: Volunteer Event. Remember, RSVP on DragonCentral!