College of Science, Health & the Environment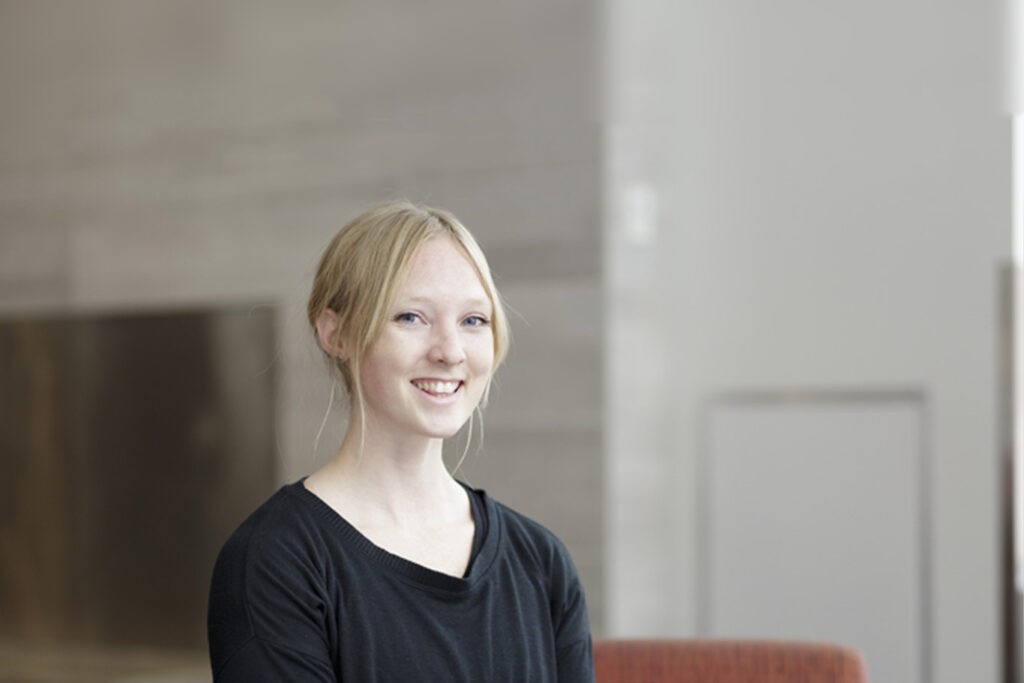 Soaring research leads to national honor
MaryJo Nelson has always been a master at combining her interests in nontraditional ways.
That creativity paid off when the sophomore was recently named a Goldwater Scholar, the 14th MSUM student to earn the honor in the past 20 years.
"Being at MSUM, I've had so much opportunity to do research, write grants and take on leadership roles," she says. "I work hard, but the environment is so supportive."
The Goldwater Scholarship is one of the most prestigious undergraduate awards given in the sciences. Congress established the scholarship in 1986 in honor of former U.S. senator and 1964 residential candidate Barry Goldwater.
This year, the scholarship was awarded to 417 college students from across the United States. It provides $7,500 per year for educational expenses to sophomores and juniors majoring in math, science and engineering.
One of Nelson's areas of study is ecology; she has done extensive research on merlins, a falcon that lives in the northern hemisphere. But she also studies film. This combination is just one way she has challenged the status quo.
Nelson graduated from West Fargo High School in 2008 and decided to postpone college. "School was always the plan, but I was busy doing other stuff," she says.
For example, she danced with the traveling performance arts group, The Young Americans. This experience allowed her to tour the U.S., the United Kingdom, Germany, Poland, Sweden, the Netherlands, Japan and China.
She completed her touring commitment and continued to work for the group out of its California office for three years.
She went on to serve with a crew on a sailboat that went from San Diego to central Mexico. She then made Mexico her home for six years, making a living teaching and performing aerials.
Nelson decided to start taking college-level classes only when she was pregnant with her daughter, who is now 6. "My goal was to go into medicine," she says.
She was still living in Mexico, so she took online classes at Minnesota State Community and Technical College. Eventually, she and her daughter moved back to the Fargo-Moorhead area and she transferred to MSUM.
"The big selling point for me was I could study both science and film," she says.
And while Nelson intended to pursue a medical degree, she recognized she could study any discipline as long as she had taken any required courses and performed well on the medical school entrance exam.
"I was interested in ecology and conversation," she says. "That's what interested me the most."
As part of her studies at MSUM, Nelson has conducted research on merlins, a small bird of prey with a shrill, chattering call. She began research under the mentorship of Dr. Christopher Merkord, an associate professor in the biosciences department.
"I knew I wanted to do research and he invited our whole class to come to his lab," she says.
Before long, she was plotting where merlins are nesting in Moorhead. Researchers are trying to identify why the raptor's territory has been expanding into urban areas over the past four decades. Nelson will be presenting a poster at the annual meeting of the American Ornithological Society in Puerto Rico this summer.
In the future, Nelson wants to do more than conduct research; she wants to tell the story of the process. She dreams of combining her love of science and film by creating a National Geographic-esque series that reveals how research happens.
"Right now there's a massive distrust of science," she says. "I want to use TV or film to build a better understanding of how research works."
Nelson's ultimate goals have changed. Instead of medical school, she expects to pursue a Ph.D. in a field like marine ecology or conservation. Some day she wants to live on a sailboat and sail around the world. She'd love to continue her research on raptors.
But she also recognizes she has other interests and responsibilities: film, dance, yoga, mom.
"There's so much to do," she says.