Comstock Memorial Union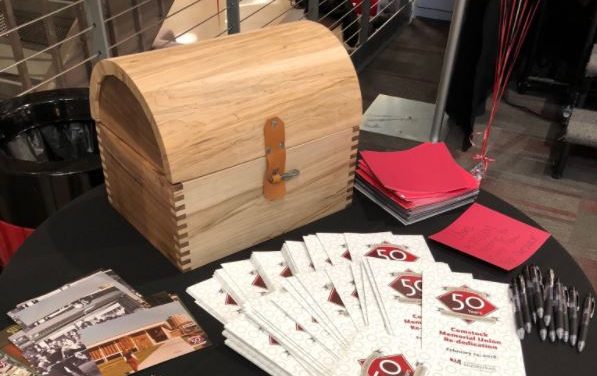 CMU Time Capsule
On February 14th, 2018, we re-dedicated the Comstock Memorial Union 50 years to the day it was originally dedicated in 1968. Along with the re-dedication, we revealed a time capsule which was constructed by local artist and woodworker Tom Kemmer of Kemmco.
Kemmer was hired to create a unique time capsule built similarly like a treasure chest. The box construction features finger joints highlighting two different kinds of woods with the cover of the chest curved. The hardware is a combination of leather hinges, and straps, with some hand forged metal components.
The box itself is simple in design, but the joinery techniques, and leather and metal accents are what sets it apart. With a refined rustic feel, the imprinted and etched leather straps, and finishing natural wax, the time capsule will hold items related to the year of celebration.
A list of items sealed in the capsule:
History postcards used at a variety of events
50th commemorative pin
Postcard invitation to 10/7/17 Celebration
Re-dedication Program from 2/14/18
50th stickers
50th keychain
Re-dedication Invitation
Najam Usmani Keynote Information
Photos from all the different events
50th Birthday party hats
50th balloons
individual notes written by students and the campus community  that were collected at the 2/14/18 event
information on the time capsule itself
planning notes from Annie Wood
Layne Anderson's dedication speech
Olivia Bain's artist statement
Campus articles written about the events