Alumni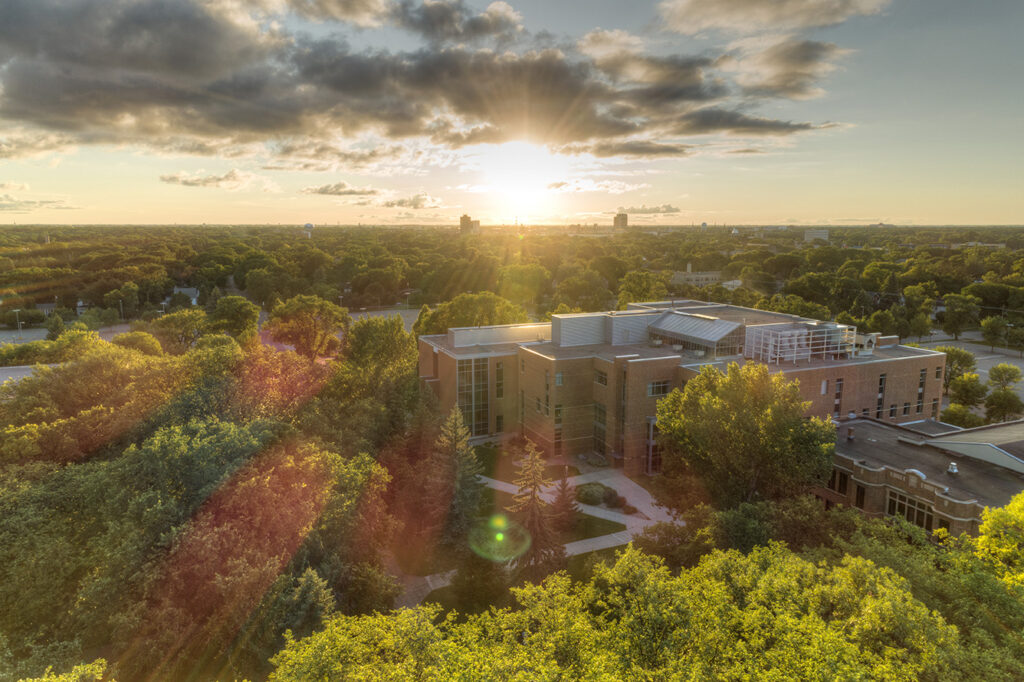 MSUM Exceeds $50M Campaign Goal
Minnesota State University Moorhead announced the successful completion of its six-year comprehensive campaign on Wednesday. The Vision 2020 Campaign raised $59.1 million, the largest fundraising initiative in the university's history. Vision 2020's campaign legacy will improve student experiences by increasing scholarships, investing in academic programs, and creating community connections through an alumni center.
More than 23,000 gifts were made to the record-breaking campaign, including alumni, parents, community members, and businesses. MSU Moorhead's original goal in 2014 was to raise $25 million; the goal was revised to $50 million in 2019 because of early success. The Vision 2020 campaign exceeded its revised goal by 18 percent — raising a total of $59.1 million. In addition, more than one-third of the campaign total, $19 million, was raised during the pandemic.
"Vision 2020 has transformed MSUM. We now have the ability to provide significant support and are building a culture of philanthropy that will serve the students, faculty and staff of MSUM for generations," said Gary Haugo, vice president of university advancement.
The Campaign Cabinet, including current MSUM Foundation Board President Brad Wimmer, past Foundation Board President Scott Nelson, and former board members Rodney Paseka and Bob Bowlsby, spearheaded the Vision 2020 campaign.
"The gifts we received from generous donors will help transform the landscape of our campus," Nelson said. "Scholarships are more important than ever before and investing in the quality of our academic programs will help set MSUM apart to attract the brightest and most deserving students."
In addition to being the largest and most successful campaign in MSUM's history, Vision 2020 achieved several other milestones:
More than 23,000 gifts were contributed to the campaign, nearly 19,000 of those gifts are from alumni.
The campaign received 15 gifts of $1 million or more and 10 gifts of $500,000 or more.
Donations came from 49 states.
"Throughout this campaign, our Foundation team has demonstrated their grit in achieving a goal beyond our expectations. And our alumni, friends and donors showed up by supporting our students – past, present and future – with the heart of a Dragon," said MSUM President Anne Blackhurst. "Private support creates a margin of excellence that is key to the university's success. Most importantly, it creates momentum and lays the foundation for future campaigns."
Student Scholarships
Investment in Foundation scholarships to attract the best and brightest students increased, especially for first-generation students, new Americans, and military veterans.
"I am so grateful to have received a scholarship," said Logan Koehn, an economics and political science major. "Especially during these uncertain times, receiving a scholarship is a nice emotional boost. I believe that achieving a scholarship goes a long way to certify to myself that I am doing the right things as a student."
Academic Programs
Investing in university programs expands our academic excellence by offering more intentional opportunities for students to apply their knowledge. These essential and meaningful experiences build bridges between classroom activities and future employment, ensuring new graduates step into their first job with confidence and preparedness.
One of our significant academic investments is MSUM's partnership with Essentia Health-Fargo to prepare the next generation of nurses with a new B.S. in nursing. The Essentia Health Center for Nursing collaboration is an excellent addition to MSUM's academic offerings and the Fargo-Moorhead community by addressing the national shortage of nurses across all health care settings. Essentia Health has provided clinical placement opportunities, and students have completed more than 3,000 clinical hours at Essentia Health in the past year.
"Essentia is proud to partner with MSUM in creating the Essentia Health Center for Nursing because it aligns with our mission to make a healthy difference in people's lives," said Nicole Christensen, Essentia Health chief nursing officer. "Ultimately, this partnership will lead to high-quality nurses being available to care for our community when they need it."
Community Connections
The campaign met its $6 million goal for an Alumni Center with nearly all major gifts from current or former Foundation board members because they believe in the goals of this project. 
"I am extremely excited to be moving ahead with the new MSUM Alumni Center. We thank all our Foundation board members, staff and donors for their generosity and support to fulfill this Dragon dream," said Brad Wimmer, MSUM Foundation board president. "The facility will provide a new home for current and future Dragons to gather for years to come. We couldn't be prouder of the direction President Blackhurst and the Dragon team has led students, staff and alumni to new heights. It truly is a great day to be a Dragon!"
This Alumni Center will provide space for student and community interactions and serve as the anchor for alumni returning to campus to visit, engage, inspire, and be inspired. The community will be invited to campus to meet students, faculty and staff in meaningful and transformative ways. Supporters want to engage with students during their MSUM journey, and this space will help create those connections.
"Ultimately, the Alumni Center will become a catalyst for philanthropy at MSUM as our current students witness the generosity of our alumni – and our donors witness firsthand the transformative power of their giving," President Blackhurst said.
MSUM set the stage for this campaign with a great story to tell – stories of students' grit to overcome obstacles in achieving their goals; stories of alumni and donor heart by believing in our purpose; and stories of community support by embracing the challenges of the world before us. These investments make a real impact, creating a revenue source the university can rely on year after year.  
"This work has built a solid foundation for the university and our students," Haugo said. "We are humbled by the support of our alumni and friends and the community. We value and appreciate their generosity and their commitment to the Dragon family."